REPAIR HAIR TRANSPLANT IN INDIA
WHY DID MY HAIR TRANSPLANT FAIL?
Deciding that you require hair transplantation surgery is tough, but having your initial transplant go awry is even worse.
So, if your previous hair transplant fell short of expectations, there's no need to worry. Dr. Deepam Shah stands as a prominent hair transplant surgeon in Mumbai, India. Remaining updated with the latest techniques, Dr. Deepam Shah, founder of Viva Aesthetic Clinic, is dedicated to providing superior hair transplant repair treatments using cutting-edge surgical techniques.
Regrettably, all surgeries carry inherent risks, and in the realm of hair transplantation, the following are factors that can lead to the failure of Hair Transplants:
OLDER TECHNIQUES:
The adoption of outdated hair transplantation methods has diminished within the realm of surgeons who uphold globally recognized techniques, including Dr. Deepam Shah. These older approaches have demonstrated a tendency to result in heightened scarring, evident hair loss in the form of noticeable "plugs," or uneven hairline appearances.
POOR PHYSICIAN SKILL:
While most instances of subpar hair transplants stem from the utilization of outdated surgical methods, it can be argued that inadequate physician expertise plays a role as well. Surgeons who fail to maximize the potential of the donor area and accurately position the follicles might be responsible, particularly if your newly grown hair exhibits erratic growth directions.
LACK OF EXPERTISE or UNQUALIFIED PRACTITIONER for HAIR TRANSPLANT:
The proficiency of the doctor performing the hair transplant is crucial. It's essential to thoroughly research your surgeon's background, examining their outcomes and experience. You can gain insight by connecting with previous patients who have undergone similar procedures. Dr. Deepam Shah, with more than a decade of experience and over 3000+ successful Hair Transplants, stands as a testament to expertise in the field.
CORRECTIVE TRANSPLANT BEFORE & AFTER IMAGES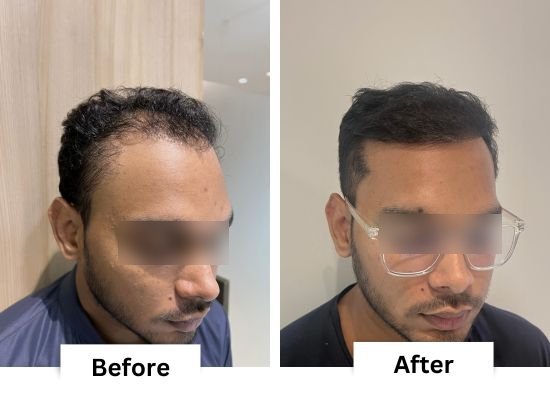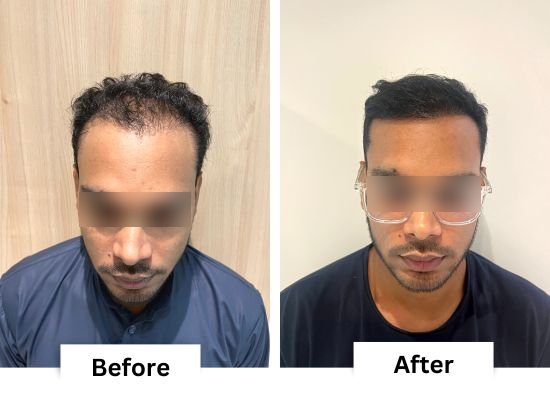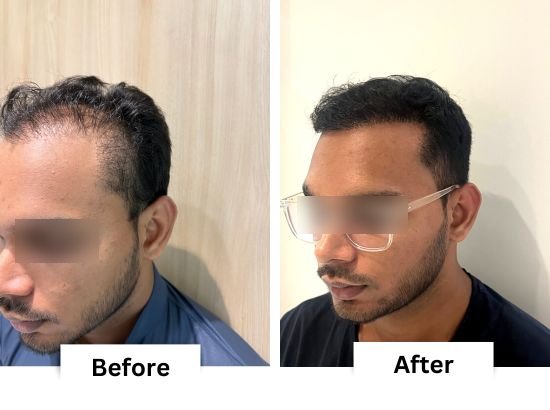 Age of patient: 22
Grade of baldness: 4
Previous Type of Surgery: FUE
Challenges in revision surgery: Very poor density of hair and angle in which hair implanted are abnormal and they are going in all directions.
Revision Surgery Grafts implanted: 3500 grafts
Duration: 6 months
COMPLICATIONS OF A FAILED HAIR TRANSPLANT
Your first hair transplant, which didn't go as expected, might create some challenges for the repair.
GROWING ANGLE
If someone without proper skill did work that made your face and hairline look uneven, fixing it to look completely natural might be hard. One common mistake seen amongst unprofessional hair transplants is the addition of multiple follicles into the hairline, which naturally only needs one. This can cause visible "plug" effects and leave a visibly unnatural hairline.
Moreover, hair follicles might be placed incorrectly, causing hair to grow in various directions. To fix this problem entirely, Dr. Deepam Shah needs to take out the existing grafts and re-implant them correctly. Because this affects the area where the hair is supposed to grow, the original site could be seriously affected and might not accept the new follicles properly.
LIMITED DONOR SUPPLY
Even highly skilled surgeons like Dr. Deepam Shah might face challenges in hair restoration surgery if there aren't enough donor hair follicles available. If the scalp's donor area has become thin due to previous extraction, achieving a full restoration could be complicated. In such cases, the surgeon might need to consider using hair from other parts of your body, like body hair, to supplement the donor supply.
A hair transplant repair surgery can be performed to fix unsatisfactory results and give you a more natural head of hair.
WHAT'S THE PRICE OF CORRECTIVE TRANSPLANT SURGERY IN MUMBAI, INDIA?
A failed hair transplant can be completely restored through Dr Deepam Shah's excellent surgical techniques. The cost of rectifying such a procedure varies based on individual patients, primarily determined by the quantity of grafts involved and the specific techniques needed to address the issues arising from the initial unsuccessful hair transplant.
Therefore, failed hair transplants in India can be corrected at the Viva Aesthetic Clinic for a guaranteed cheaper price than any other hair transplant clinic. Cost can be paid in monthly installments for a duration of up to 8 months at 0% interest. Come visit us to find out the custom cost tailored to you.
WHY CHOOSE VIVA AESTHETIC CLINIC?
Dr. Deepam Shah's exceptional blend of compassion and medical expertise empowers him to curate personalized treatment plans, each tailored to recommend the optimal hair transplant solution for every individual. His profound understanding of medical intricacies ensures that each patient receives a treatment plan that is perfectly suited to their unique needs. This approach not only reflects Dr. Deepam Shah's dedication to his patients' well-being but also underscores his commitment to achieving the best possible natural-looking hairline.
The hair transplant procedures at VIVA, certified by AHI London, hold the potential to be truly transformative in the lives of patients. Through unwavering dedication and expertise, Dr. Deepam invest considerable time and effort to guarantee outcomes that are nothing short of remarkable. His commitment extends beyond just the procedure itself; it is centred around the patient's holistic experience. By combining advanced techniques and a patient-centric approach, Dr. Deepam Shah aims to provide outcomes that are not just visually satisfying but also emotionally uplifting, marking a significant positive change in their lives.
Viva Aesthetic Clinic stands resolute in its commitment to delivering unparalleled care, with safety and patient contentment reigning as our foremost priorities. We meticulously adhere to rigorous protocols, ensuring that every aspect of our services, be it a Hair Transplant in Mumbai or any other treatment, is conducted with the utmost safety and precision. Our comprehensive array of services encompasses a wide spectrum, including FUE hair transplants, No shave hair transplants, No scar hair transplants, Female hair transplants, Beard transplants, Body hair transplants, and more. This breadth of offerings reflects our dedication to addressing diverse patient needs while maintaining the highest standards of quality and care.
Frequently Asked Questions
Can Hair in the donor areas grow back?
Your donor hair can grow back if the initial graft removal method was suitable and you followed the after-care instructions well.
Can you ruin a hair transplant?
Not following the right after-care instructions provided by your surgeon can indeed harm your hair transplant and impact the newly implanted hair follicles.
What is the cost of a failed hair transplant repair?
The expenses for a hair restoration procedure vary according to each patient. Several factors, like the reasons for the previous hair transplant's failure and the supply of donor follicles, are evaluated. The cost is then tailored to your individual situation and requirements.