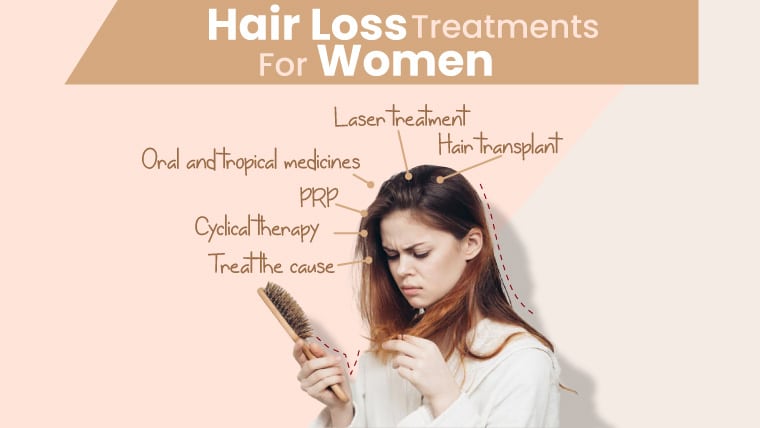 Hair Loss Treatments for Women
What is Female pattern baldness?
Female pattern baldness is a type of hair loss that affects a large number of women.
Around 40% of women by age 30 show signs of hair loss and less than 45% of women reach the age of 60 with a full head of hair.
What are the Causes of Female pattern baldness?
The reason for female pattern baldness is not well understood but may be related to:
Aging
Changes in the levels of androgens (hormones that can stimulate male features)
Family history of male or female pattern baldness
Heavy blood loss during menstruation
Certain medicines, such as estrogenic oral contraceptive
Thyroid
Stress
What are the Symptoms of Female pattern baldness?
Persistent hair fall
Hair thins mainly on the top and crown of the scalp. It usually starts with a widening through the center hair part. This hair loss pattern is known as the Christmas tree pattern.
The front hairline remains unaffected except for normal recession, which happens to everyone as time passes.
Treatment for women
1.Treat the cause
Common systemic conditions may cause hair fall in women including thyroid disorders, anemia, PCOS, psoriasis and seborrheic dermatitis, etc
Finding and treating the disease will itself help in significant benefits.
2 . Topical medications
Ketoconazole shampoo Ketoconazole is often recommended by a lot of dermatologists because it is an antifungal agent. It not only stimulates hair growth and unclogs hair follicles, but it also aids in the treatment of seborrheic dermatitis.
Furthermore, scientific studies have shown that ketoconazole has a similar effect on our hair as minoxidil, which is why combining minoxidil and ketoconazole may provide outstanding results and remarkable hair growth.
Minoxidil is a topical drug that promotes scalp circulation and allows your hair to enter the growth phase of the hair cycle more quickly. This is a hair loss treatment that is approved for use in women, making it a safe and widely used medication. Minoxidil is administered in the form of 1 mL twice a day.
Redensyl is the most recent breakthrough in hair loss treatment and the best alternative to hair transplantation. It is the first hair care cosmetic active component based on regenerative medicine research that can provide excellent results
Peptides: The peptides can help to improve hair growth by decreasing inflammation at the scalp, increasing blood flow to the hair follicle, and fighting off free radicals that may lead to excess hair loss.
Procapil: Procapil has apigenin in it, which is a vasodilator that stimulates healthy hair growth. Results are seen within 15 days of usage.
3. Nutritional and supplement medications
Iron Supplements: In certain women, iron deficiency may cause hair loss. Iron levels in your blood may be tested by your doctor, particularly if you have a history of iron deficiency, or have significant menstrual bleeding. If you have an iron deficiency, you should take supplements to prevent hair loss.
4. Laser treatment
Laser therapy, which is used to treat hair loss, is based on equipment that generates light that may enter the scalp. Excimer laser (308 nm) is generally used.
Low-level laser treatment (LLLT) employs devices that produce red light (wavelength 630-670 nanometers) or infrared radiation.
Low laser therapy, also known as cool beam laser therapy, has a noninvasive wavelength and 100 percent oxygen delivered to the scalp to improve treatment efficacy. It is very safe for healthy and efficient hair growth.
5. PRP (platelet-rich plasma) treatment
PRP therapy involves having your own blood drawn and putt it into a centrifuge to separate red blood cells from the plasma. The plasma, which includes growth factors, is then injected into your scalp. When PRP therapy is used to treat hair loss, the plasma is injected into the hair follicles. They may see an increase in thickness or regrowth soon after. PRP therapy involves several sessions within a 4- to 6-week period with maintenance every 4 to 6 months.
6. Cyclic therapy
Zinc sulfate + Calcium Pantothenate: In some research studies, patients who took Minoxidil daily in combination with zinc sulfate capsules and calcium pantothenate pills twice a week showed better results than those who used Minoxidil alone.
Cyclical therapy means giving vitamins with calcium supplement on a single day, followed by iron and mineral combination products on the next day. and finally amino acid blend on the third. Certain are administered in these combinations to prevent nutrient-to-nutrient contact and to improve absorption.
Cyclical vitamin treatment is beneficial in treating both female pattern baldness. In females, the hair follicles are alive for many years and thus results are good.
7. Hair transplantation
The modern hair transplantation procedure (FUE) includes the use of extremely small and many grafts called "micro grafts" (1-2 hair follicular unit grafts) and mini grafts (3-4 hair follicular unit grafts) in large numbers of 1000-2500 or even 2800/session. Each graft thus comprises 1-2-3 or up to 4 hairs.
In (FUT), a strip of scalp is removed from the donor location and used to create the grafts. Sutures are used to close the donor region; if done gently and without stress, there is usually minimal scarring at the donor site. In around ten days, the sutures are removed and the patient notices hair growth in the transplant region.
8. Newer therapies-Growth factor concentrate (GFC)
GFC is a highly concentrated growth factor preparation developed from a person's own blood for improved outcomes in hair loss and face rejuvenation therapy.
Platelets store a variety of growth factors (type of cells in our blood). This GFC is injected into the scalp and skin (facial and neck), giving a high concentration of the person's own growth factors directly into the skin layers. This advanced treatment for hair loss results in the stimulation of regeneration and repair.
With a plethora of modalities available to treat female pattern hair loss, there are many options available to patients. However your dermatologist is the best person to understand your hair, scalp and systemic illness and suggest you the best treatment accordingly.
For Hair consultation visit Viva Aesthetic Clinic at Opera House or contact us on 022 3573 1556 | 93245 89084 or simply fill in your name and number & one of our team members will get in touch with you soon. Our team of experts along with Dr. Deepam Shah, MD. DNB. FAM – Dermatologist, Cosmetologist & Hair Transplant Surgeon, will help you out in understanding your problem and guide you through every stage of your treatment.