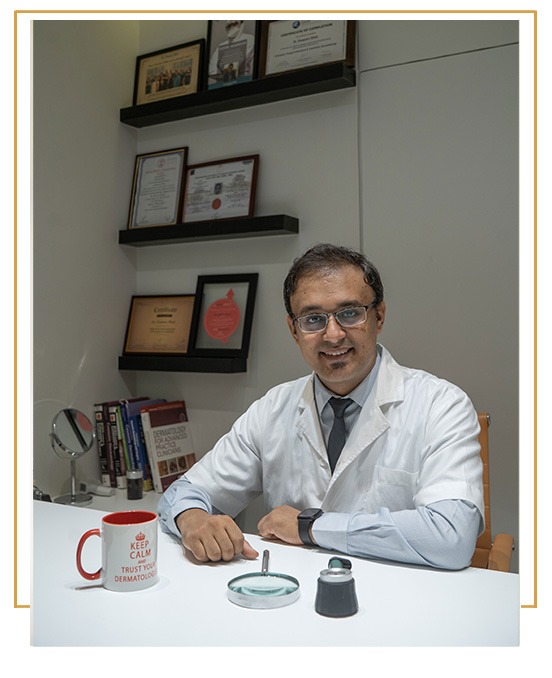 Dr. Deepam Shah - Dermatologist in Mumbai
MD. DNB. FAM - Dermatologist, Cosmetologist, Hair Transplant Surgeon.
Dr. Deepam Shah is the Dermatologist, Cosmetologist & Hair Transplant Surgeon practising in south Mumbai with over a decade of experience. He is the best Skin Specialist in Mumbai with over 12+ years of experience.
After his MBBS, in his vision to change people's lives he went ahead and completed MD and DNB in Dermatology & Venereology. He is also a fellowship holder (FAM) in AESTHETIC MEDICINE, HAIR TRANSPLANT and is the founder of Viva Aesthetic Clinic.
Viva Aesthetic Clinic, his brainchild and a project close to his heart, is located in one of the prime locations in south Mumbai in Opera house. A lush practice run by Dr. Deepam Shah, it promises exceptional results in skin, hair slimming, aesthetic and hair transplant treatments. The practice is a 1000 sq. ft clinic comprising state-of-the-art lasers and medical devices where services are delivered by skilled, trained and qualified beauty experts and doctors. The clinic has an excellent set up with the latest technology and advanced lasers.
Patient's satisfaction is our top priority. Dr. Deepam Shah believes in understanding the root cause of the disease and helps patients fight them with utmost ease and minimal medication. His expertise has brought in more than 2500+ successful stories of Hair Transplant, numerous successful aesthetic procedures and still counting.
Apart from busy practice, Dr. Deepam Shah is actively involved in educating people about different skin problems and treatments through social channels and news. He is a renowned speaker and an expert faculty in conferences and seminars. Dr. Deepam Shah has gained the trust of various celebrities and they vouch for him for any skin or hair problems. Dr. Deepam is the best Skin Specialist in Mumbai.
Our Dermatology Treatments
For more information & consultation on Dermatology treatment, visit Viva Aesthetic Clinic at Opera House or contact us on 022 3573 1556 | 93245 89084 or simply fill in your name and number & one of our team member will get in touch with you soon. Our team of experts along with Dr. Deepam Shah, Dermatologist in Mumbai, will help you out in understanding your problem and guide you through every stage of your treatment.